WorldService information solutions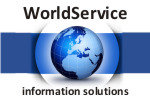 Daniel Haug
Nöggel 721
CH-9055 Bühler

Phone: +41 (071) 793 37 30
Telefax: +41 (044) 274 25 83

Email: worldservice@it-houses.com
Website: www.worldservice.com

WorldService offers a wide range of web based solutions and 25 years of experience.
We develop websites according to the requirements of you and your company. A website is not just an electronic paper but an entire solution which is part of your marketing concept. That's why we offer further services in this field.
We establish your marketing concepts and develop your corporate identity as per your needs.
Maybe you need a customized web solution for your company. We concept and develop web-driven solutions and software for your enterprise or an entire industry.
These products are already available:
We are looking forward to your request.

Competences
Content Management Systems (CMS)
Corporate Design
E-learning
Web Technologies